"我"是谁(Who am "I")
2017-04-18 21-43-28 来源:山东省博山正觉寺 作者:仁炟法师 点击:次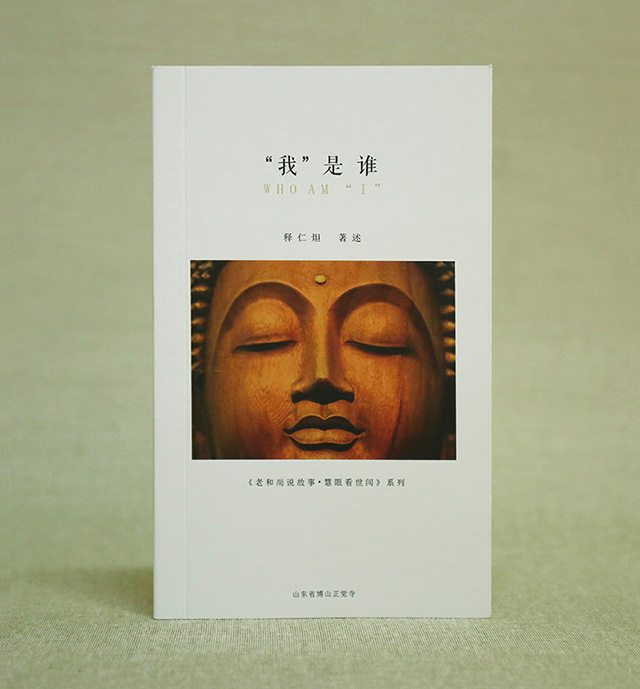 (2013年10月 释仁炟法师开示于博山正觉寺秋季佛商禅修班)
(The Dharma Talk given by Ven. Renda to Autumn Buddhist Merchant Meditation Class in Boshan Zhengjue Monastery in October 2013)
第一章 参心寻我
Chapter I Investigate the mind and seek yourself
顺治皇帝的题壁诗
The wall poem written by Emperor Shunzhi

北京西山的慈善寺,有顺治皇帝的题壁诗,很有名的。其中有这么几句:
未曾生我谁是我,生我之时我是谁?
长大成人方知我,合眼朦胧又是谁?
人世间的一切,包括我的生活、我的工作、我的成就、我的快乐、我的烦恼,我的亲人、我的冤家对头等等,都是围绕着"我"的。这些"我"形成了一个很沉重的桎梏,把我们包围起来。
Cishan Monastery in West Mountain in Beijing has the wall poem of Emperor Shunzhi, which is very famous. Some lines of the poem go like this:
Who am I before I was born, who am I when I was born?
I knew it was me after I grew up, who is he in dim when closing the eyes?
Everything in this secular world, including my life, my work, my achievements, my joy, my worries, my families and my enemies etc, they are all surrounding the "I". These "I"s form a very heavy shackle which encircles us.
认识真正的自我
Understand the real self

佛教讲人有八识,其中第七识叫末那识,也叫独头意识,是执着"我"的,一切都是"我"。哪怕猪八戒他娘,长得最丑了,她也认为她长得最美。很多男孩子女孩子,兜里装个小镜子,走几步就要拿出来欣赏欣赏,"哎呀,我长得这么美"。这都是"我",是对"我"的执着。怎样把我们的自心从"我"里面解放出来,认识真正的自我?这就需要修行。
Buddhism reckons that people have eight consciousnesses, among which the seventh consciousness is manas consciousness, which is also called Independent-arising consciousness. It attaches to "I", all associate with "I". Even Pig Bajie's mother, who is the ugliest, but she thinks that she is the most beautiful woman. Many boys and girls have small mirrors in the pockets, they will take them out frequently and enjoy seeing their faces when walking, "Oh, my! I am so beautiful." These all belong to "I", and they are the attachments to "I". How to liberate our minds from "I" and realize the real self? We need to practice.
佛教有打七,也叫打佛七,打禅七。其实打七,就是打"我",因为第七识末那识,就是独头意识。人死了,还执着于他那个尸体,烧成骨灰了,在没散以前,还在那个骨灰前守着,叫做守尸鬼。我们在修行过程中,要把第七识打掉,转化,转识成智,这就是修行的过程。
In Buddhism, there is "Knock off the seventh consciousness", which is also called "Knock off the seventh consciousness in chanting Buddha's name" or "Knock off the seventh consciousness in meditation". In fact, "Knock off the seventh" is to "Knock off the I". Because the seventh consciousness-manas is the Independent-arising consciousness. When a man was dead, he still attached to that corpse, even it was burnt to ashes, he would stay with the ashes before dusting, which is called Corpse Standby Ghost. In our practice, we shall knock off the seventh consciousness, to transform it, transform the consciousnesses into wisdom, this is the process of cultivation.
释迦牟尼佛是大智慧者,大成就者。大家要知道"我是谁",就要了解佛教,要走进佛教,一起参心寻我。
Shakayamuni Buddha is the one with great wisdom and great triumph. If you want know "Who am I", then get to know Buddhism, step in Buddhism and investigate the mind and seek the self together.
在这个过程中,先向大家简单介绍佛教基本知识,对佛教有所了解,便于修持,便于把我们每个人的自心从"我"中解放出来,真正地认识自我。
In this process, I will introduce the basic knowledge of Buddhism briefly to you so you can have a primary impression of Buddhism for you practice. It will help you to free "I" from the mind and understand yourself truly.
第二章 佛教三宝
Chapter Two The three jewels of Buddhism

佛教三宝分住持三宝和自性三宝。平常说住持三宝,就是佛、法、僧三宝。
The three jewels of buddhism includes the abiding three jewels and the three jewels of the principle. In general, it refers to the abiding three jewels: the jewel of Buddha, the jewel of Dharmaand the jewel of Sangha.
佛宝是大彻大悟的人
The jewel of Buddha : the Buddha is perfectly self-enlightened human being.
佛宝,是以释迦牟尼佛为代表的十方三世一切诸佛。因为他珍贵稀有,所以称为宝。
The Buddha refers to Shakyamuni Buddha, who represents all buddhas of the ten directions and three times in general. He is respectfully treasured by ordinary people since he achieved full enlightenment.
释迦牟尼佛是真人修行成的,不是编出来的,不是子虚乌有地编造出一个神仙来,让大家去顶礼膜拜,去供养。
Shakyamuni Buddha was not a fictional charactercreated by imagination, instead, he was a real person who became Buddha through self-cultivation.
释迦牟尼佛是古印度迦毗罗卫国净饭王的儿子,叫乔达摩?悉达多太子,他非常聪颖非常智慧,而且文武双全。他是从他母亲的右胁下跳下来出生的。他生下来刚一落地,脚下就涌出一朵金莲,走了七步,一步一朵金莲,地涌金莲,踩在莲花上,不沾土,不沾泥,向四方各走了七步,左手指天,右手指地,说:"天上天下,唯我独尊。三界皆苦,吾当安之。"
Shakyamuni Buddha was the son of ?uddhodana, the leader of the Shakya, who lived in an oligarchic republic with their capital at Kapilavastu. He was named Siddhārtha Gautamaand was extraordinary brilliant and talented. It was recorded, he was born from his mom's right hypochondrium. Right after his birth, he could walk already. He walked seven steps in each of the four directions and the golden lotus blossoms rose in his footstep. He pointed his left hand toward sky and right hand toward grand and said: "On heaven and earth, I alone am honored. Sentient beings in all three realms are suffering and I will free them."
为什么这么讲呢?释迦牟尼佛最尊贵,是多生多劫的修行人,早就成佛了,而且在娑婆世界八千次成道,八千次做佛。佛有三身,释迦牟尼佛是应化身。他示现降兜率、入胎、出胎、出家、降魔、成道、弘法、涅槃八相成道,让人们知道每个人都可以成就,等于是给大家做了一次示范。
What makes us say so? Shakyamuni Buddha is the most respectable practitioner who have been self-cultivated and attained Buddhahood for endless kalpas, and even only in Saha World, he had attained Buddhahood for eight thousands times. A Buddha has three bodies/formsand Shakyamuni Buddha is in Nirmā?akāya form (a Buddha's transformation, or miraculous body, in which he appears at will and in any form outside his heaven). His living legend : descended from Tu?ita Heaven, into the womb, birth, renounced the secular life, quelled demons, attainment of enlightenment, preaching, and entered nirvana, showed us that normal human could achieve Buddhahood.
乔达摩·悉达多太子文武双全。十多岁在全印度的武术比赛中获得了冠军。他对古印度的文学、地理、天文、历史、算术,无不通晓。
Prince Siddhārtha Gautamawas well versed in both polite letters and martial arts. In his teenage years, he crowned Indian champion of martial arts. Beside this, he also mastered literature, geography,astronomy,history, as well as arithmetic.
太子出家前,他出了王宫,到迦毗罗卫国城外游玩。到了东门,看到一位老人佝偻着身体,拄着拐杖,喘息粗重,颤颤巍巍地向前行走,非常痛苦。到了南门,看到一个人病了,也很痛苦。到了西门,看到一个人四大分离,死了,更痛苦,亲朋好友们都在哭泣。走到北门的时候看到一个修道人,很快乐。
Before renounced the secular life, one day, the princess took a trip to the countrysideof Kapilavastu. At the eastern gate, he noticed an old man with a stoop, holding a crutch, breathing heavily, trembling and walking down the road. The old man seemed suffered a lot. At the southern gate, a painful patient caught his attention. At the western gate, the scene became even more miserable, he saw a dead person surrounded by crying relatives and friends. However, when he arrived at the northern gate, he met a joyful practitioner,
于是他萌生了出家的念头,但是净饭王只有他这一个儿子,他要出了家,谁继承王位?所以不许他出家,给他娶了一个非常美貌贤惠的妻子,叫耶输夫人,育有一子。到了十九岁,乔达摩·悉达多出家修道。
This trip triggered his idea of giving up the secular life. However, he was the only child of ?uddhodana, no one else could succeed to the throne. His father did not approve his thought and Yashodhara, a beautiful and virtuous lady, became his arranged wife. Later, they had a son. At nineteen years old, he became a monk.
(注:释迦牟尼佛出家、苦行、成道的时间在不同译本的佛经中略有差异,本书仁炟法师所述的相关内容传承于其剃度恩师能行长老的开示。)(note*: In different versions of Sutras, the recorded timeline about Shakyamuni Buddha: renounced the secular life, austerities, and enlightenment is slightly different. The contents related to this timeline used in this book is based the instruction of Ven. Master Nengxing.)
他先向外道修习了六年,修习禅定,得到了非想非非想定,是非常高深的禅定功夫。因为修行仍然不究竟,他又到了雪山修苦行。什么样的苦行呢?是日中一食,而且是日食一粟。什么是日食一粟呢?就是一顿只吃一粒米。结果又修了六年苦行,还不究竟。乔达摩?悉达多就从雪山上走下来,到了尼连河边洗了个澡,又接受了牧羊女供养的乳糜,恢复了体力。然后在菩提树下打坐,七七四十九天,继续修禅定,观四圣谛,观十二因缘。当十二因缘观成了,突然睹明星而悟道。这个过程中也降伏了魔女的骚扰和魔军的进攻。释迦牟尼佛成道,是大彻大悟,知道了世间和出世间的一切真理真相,所以是觉悟。
He started his cultivation by practiced Chan meditation following the heretics for six years and reached the stage of neither-ideation nor non-ideation (naivasa?j?ā-nāsa?j?ā). He was not satisfied with his practice, therefore he moved on to practicing austerities on snow-covered mountain for another six years. In this period, he only ate one grain of rice each day. Despite his diligence, he still could not attain the full enlightenment. He descended the mountain, and took a shower on the bank of nairanjana river. A village girl named Sujata gave him some madhupayasa (a rice pudding now also known as kheer) after which he got back some energy. Seated under the Bodhi tree and he meditated for forty-nine days. During these days, he contemplated the Four Noble Truths and Twelve Nidānas. Throughout this process, he also overcame the seduction from Mara's daughterand attacks from demon army, After he realized the complete insight for both of them, he suddenly attained full enlightenment while observing the stars. Shakyamuni Buddha is the "Awakened One", who obtains the ultimate truth and understand the all mundane and supramundane phenomena.
释迦牟尼佛是觉悟了的人,我们普通人是没觉悟的佛。我们和佛的区别就在这里。大家都是平等的,普通人和佛是平等的,区别就在于觉悟和没觉悟。我们学佛人按佛陀教我们的方法去修行,也能成就,也能成佛。
Shakyamuni Buddha is a fully awakened person and normal persons are unawakened Buddha. From this point of view, normal human beings and Buddha are equal. The difference between us and Buddha is whether or not attained full enlightenment. Practice following Buddha's instruction, cultivate step by step and we could become Buddha eventually.
尽虚空遍法界有许许多多的佛存在。在我们现在所在的贤劫要有千佛出世,释迦牟尼佛是第四尊佛。在贤劫以前叫庄严劫,也是千佛出世。其中最后三尊佛,有位叫毗婆尸佛,就是释迦牟尼佛的前身。在贤劫以后,叫星宿劫,还要有千佛出世。可以说尽虚空遍法界到处都有佛,我们能够得到人身,说明我们在古佛那里受过三皈五戒,否则是不能得人身的。"人身难得,佛法难闻"就是这个道理。
There are countless buddhas throughout the ten directions and three timesof theDharma Realmand to the very end of empty space. In the present kalpa (bhadrakalpa), there will be a thousand buddhas and Shakyamuni Buddha is the fourth among them. There were also a thousand buddhas in the previous kalpa (vyuhakalpa) and Shyakyamuni Buddha lived his past life in that time and named Vipassī Buddha, one of the last three buddhas in vyuhakalpa. During thenext kalpa (naksatrakalpa), again there will be another thousand buddhas. As expected, there are countless buddhas present in every Dharma Realm and space. The fact we are human now indicate we have taken refuge in the three jewels and undertaken five precepts of Buddhism at time of ancient Buddhas. Otherwise will could not stay in the human. The sentences " It's hard to obtain a human body and also hard to be able to hear the Buddhadharma" refers to this.
三藏十二部法宝
The jewel of Dharma: Tripi?aka and twelve divisions of the Mahāyāna canon
法宝,是释迦牟尼佛所讲的经。释迦牟尼佛三十一岁成道到八十岁灭度,讲经说法四十九年,讲经三百余会。当时释迦牟尼佛在世的时候并没做记录。释迦牟尼佛圆寂后,在先后几次集结佛经的时候,大迦叶尊者主持会议,五百大阿罗汉参加,由声闻第一的阿难尊者来回忆,释迦牟尼佛在什么时间什么地点讲的什么经,阿难尊者都能一字不错地复述出来。然后由五百大阿罗汉来印证,再写到贝叶纸上。这就是最早的佛经。
The jewel of Dharma refers to the Sutras preached by Shakyamuni Buddha. Between attaining full enlightenment at thirty-one years and entered nirvana at eighty years old, he preached the Dharma for forty-nine years over three-hundred times. There was no recording while he was alive. Shortly after his death, most Ven. Mahakasyapa convened and presided several meetings attended by five-hundred arhats and during which Ananda recited the sermonsof the Buddha from memory. Ananda was known for his most retentive memory, the recitationswas approved by five-hundred arhats and engraved on Pattra-leaf and became the first Buddhist scriptures.
法宝有经、律、论。平常说三藏十二部,三藏,就是经藏、律藏、论藏。经藏是释迦牟尼佛所讲的经典。律藏是释迦牟尼佛制定的戒律。论藏,是释迦牟尼佛的学生们,也就是大菩萨们,大阿罗汉们,他们对于佛经的解释和对佛教的理解,称为论,比如《百法明门论》《灵峰宗论》《宗镜录》等等。十二部是佛经的十二种体裁,就像中国的长篇小说,短篇小说,诗歌、散文等等,不是十二本书。
The jewel of Dharma includes three components : Sūtra, Vinaya and Abhidharma, and Tripi?aka refers to them. Sūtra refers to the sermons delivered by Shakyamuni Buddha. Vinaya refers to the preceptsestablished by him and Abhidharma refers to interpretation of Buddhism and Buddhist scriptures by his disciples, such as Bodhisattvas and arhats. For example, 《the Lucid Introduction to the One Hundred Dharmas》, Ling Feng Zong Lun (Collection of Venerable Master Lingfeng Ou'yi) and Zong Jing Lu (Record of Mind Mirror) belong to Abhidharma. Twelve divisions of the Mahāyāna canon refers to twelve genres of Sūtra not twelve books, just like different genres of literature: novel, poem, or essay.
僧宝是众生的福田和善知识
The jewel of Sangha: our fields for cultivation blessedness and good advisor
僧宝,指断爱离欲,依照佛的教法如法修行,代佛弘化,弘扬佛法,度化众生的出家人。住持佛法的僧人,是众生的福田和善知识。观世音菩萨、普贤菩萨、地藏王菩萨、文殊菩萨都属于僧宝,是贤圣僧。
The jewel of Sangha, refers to monks who strictly following Buddha's instruction to cultivate, propagating Buddhism and saving all living beings. They are our fields for cultivation blessedness and good advisor. Avalokite?vara, Samantabhadra, K?itigarbhaand Ma?ju?rī are our jewel of Sangha,the saintly monks.
自性三宝
The three jewels of the principle
自性三宝,是我们每个人都有的自家宝藏。自性佛,是觉而不迷;自性法,是正而不邪;自性僧,是清净无染。无始劫以来,我们的自性三宝被无明烦恼所覆盖,不能显露出来。修行就是把无明烦恼一层一层剥离掉,让自性三宝显露出来。把尘垢清理干净,恢复本来面目。这就是修行的过程。
The three jewels of the principle are the treasures everyone has. The jewel of Buddha is the true suchness of self-nature (buddha-nature), it is not deceived by the vexations and confusion of karma, instead it perceives the ultimate truth. The jewel of Dharma is the true Dharma—it attains moral perfection, and cessation of deluded ideas. The jewel of Sangha is identical with the faultless virtues. Ever since before the beginning of eons, our three jewels of the principle are buried by our vexations. Cultivation is to pare them off and attaining the ultimate enlightenment.
第三章 缘起性空 生灭无常
Chapter Three Dependent Origination With Void Nature; Impermanence of Life And Death
菩提树下的观修与证悟
Meditation and Enlightenment Under a Banyan Tree
释迦牟尼佛在菩提树下顿悟成佛,证悟到缘起性空。佛教的基本原理就是缘起性空。
Buddha Shakyamuni attained sudden enlightenment under a banyan tree; his epiphany was dependent origination and the emptiness of nature, which is just the fundamental principle of Buddhism.
什么是缘起呢?世界上没有独立存在的本体,也没有常住不灭的东西,一切都在不停地生灭变化着,一切都是因缘和合而生,因缘散灭而消失。人有生老病死,世界有成住坏空,一切都是因缘所生法,所以叫做缘起法。佛说一切无常。人们常说"人无百日好,花无百日红,"这就是缘聚缘散,也说明了世事无常的道理。
What is dependent origination? There is no entity that can exist alone, neither is there something eternal; in other words, all is subject to birth, death and changes incessantly, and they appear and disappear due to various causes and conditions. Human beings have to undergo the changes of birth, aging, sickness and death, while the world is subject to the stages of formation, existence, destruction and disappearance. Everything is the phenomenon of conditions and causes, therefore this is called the Dharma of Dependent Origination. According to Buddha, everything is impermanent. It is constantly said that "people can not be well for a hundred days, and flowers can not last more than three months"; such is the mechanism of dependent origination, the principle that the affairs of the world are inconstant.
性空,就是说因缘和合而产生的一切事物,它没有自己本有的、独立于外界的、永不变异的自性实体,空具一个虚假的名字,它没有自己的自性,其性本空,所以叫性空。
Emptiness of nature refers to all the things that are brought about due to conditions and causes, which do not have an entity of their own, individual, independent and invariable. They simply have a fake name without their own nature; since their nature is inborn emptiness, it is called the emptiness of nature.
举个例子,比如说我们这个桌子,它是由桌面、桌腿、抽屉等等许多部分组成的。当有了这些木料,经过木匠加工,就形成了一张桌子,但是它没有自性。若干年后,也可能年久失修了,也可能被火烧掉了,也可能零散了,最后化成微尘。所以说这个桌子,虽然我们叫它桌子,只是个假名而已。它没有自性,没有固定不变的本体,因缘和合而生,也随着缘聚缘散,缘聚则生,缘散则灭。
For instance, the table is composed of many parts like table top, legs and drawers. When the wooden materials are available, they will be processed by carpenters; so a desk is produce, but it does not have a nature of its own. Years later, probably in a state of disrepair for years, or burnt by a fire, or decomposed, it will end up in fine dust. Therefore, we can call it a desk, which is nothing but a name. It has no nature of itself, no constant entity, created from conditions and causes, obeying the laws of causality: when favorable conditions exist, it will will be made; while conditions deteriorate, it may disappear accordingly.
那么,桌面不是桌子,桌子腿也不是桌子,要细分下去,哪个榫铆是桌子?抽屉是桌子?都不是。木料是桌子吗?更不是。这就叫性空。通过这个桌子证明了释迦牟尼佛所证到的缘起性空的道理。
So, desks are not desks, neither are the legs; to go to details, which tenon-and-mortise work is the desk, or the drawers? None of them are the table. So what about the wooden material? They are less of a desk. This is called the emptiness of nature. We have taken the desk as an example to prove the principle of empty nature and dependent origination established by Buddha Shakyamuni.
另外,哲学一般把世界分成物质世界和精神世界。哲学讲物质世界是缘起性空的。其实精神世界也是缘起性空的,包括精神世界的产物,比如书籍、思想、意识、人们的习惯、知识等等,也是缘起法,不断更新变化着,没有一个固定不变的本体。人们的情绪,也是一会忧愁,一会高兴。对这个事起烦恼了,对那个事又欢喜了,迁流不息,不停地变,一切都是无常,这就体现了缘聚则生,缘散则灭,没有自性的道理。
Besides, in the philosophical sense, the world is divided into material one and spiritual one. From the philosophical perspective, the material world obeys the law of dependent origination and empty nature. Actually, so does the spiritual world. For example, the products in the spiritual world, books, ideas, mentality, personal habits and knowledge, all of them are the Dharma of dependent origination, constantly changing, devoid of a constant entity. People 's moods also range from a morose state to a happy one. They can be bothered by one thing and pleased by another one. All the things are occurring in turns, constantly changing; all is but inconstant, which embodies the truth of dependent origination and destruction, lacking a nature of their own.
◎关于"我"的千古对话The Timeless Dialogue Regarding "Me"

给大家讲一个故事,弥兰陀王和那先比丘的对话。弥兰陀王非常尊敬那先比丘,那先比丘是开悟的大善知识,有智慧,也是大阿罗汉。
I will tell a tale to you, which is a dialogue between King Milinda and Bhiksu Nagasena. The former thinks highly of the latter who is a good knowing adviser( Kalyā?a-mittatā) and Mahayana Arahant who has attained enlightenment, a fount of wisdom .
有一天,弥兰陀王问那先比丘:"眼睛是你吗?"
One day, the king asks Bhiksu Nagasena, "Are you those eyes?"
那先比丘回答说:"不是的。"
Nagasena answered, "No, I am not."
"那耳朵是你吗?"
"What about those ears?"
他说:"不是的,耳朵也不是。"
He replied, "Neither are they."
弥兰陀王又问:"鼻子是你吗?"
The king kept on asking, "Are you the nose?"
他说:"鼻子也不是我。"
He said, "No, I am not."
"那舌头是你吗?"
"Then, are you the tongue?"
"舌头也不是。"
"Neither."
"那身体是你吗?"
"Are you the body?"
"身体也不是。"
"Neither is the body."
"那思想意识是不是你呢?"
"Then, are you those ideas and consciousness?"
"也不是。"
"Neither are they."
那先比丘回答都不是。这时弥兰陀王就感到很迷惘了,很奇怪,什么都不是。反过来呢那先比丘问弥兰陀王了,他说:"你看这窗子是房子吗?"
All of Nagasena 's responses are negative. Then the king feels confused and intrigued by the answers. Instead, Nagasena asked the king by saying, "Do Your Majesty think the window is the house?"
弥兰陀王一愣,回答:"肯定不是的。"
Puzzled at first, the king replied that, "Definitely not."
"门是房子吗?"
"Is the door the house?"
"肯定不是的。"
"Definitely not."
"砖瓦是房子吗?"
"What about the bricks and tiles?"
"砖瓦也不是房子,砖是砖,瓦是瓦,都不是。"
"Neither are they. Neither of them is the house."
"那床啊,椅子啊,梁啊、柱子啊,是房子吗?"
"What about beds, chairs, beams and columns, are they the house?"
"也不是。"
"No, they are not."
这时候那先比丘悠然一笑,说:"既然门、窗、梁、柱、桌、椅、床都不代表房子,那么房子在哪里呢?"
At this moment, Nagasena wears a carefree and leisurely smile and says, "Since all the doors, windows, beams, columns, desks, chairs and beds do not represent the house, then where is the house?"
弥兰陀国王听了以后豁然大悟,明白了这个道理。他俩这个对话很有意思的。通过这些思惟来寻找,寻找"人",寻找"我",寻找"房子",都找不到。这样的寻找过程,叫起疑情,佛教讲小疑小悟,大疑大悟。他俩这样一问一答,弥兰陀王开悟了,明白道理了,悟到了什么呢?和释迦牟尼佛悟到的一样:缘起性空。
Hearing this question, the king becomes enlightened suddenly and understand the principle. The conversation between them is fairly interesting. In the same way, we can hardly find "a person", "me" or "a house". This searching process is called "evoking a pensive mood". In Buddhism, the extent of one's suspicion is in proportion to the degree of one's enlightenment. Through their questions and answers, the king attained enlightenment and became enlightened; so what has he realized? It is the same as the truth discovered by Buddha Shakyamuni: dependent origination and empty nature.
世间万物假因缘而生
Everything In This World Come Into Being Due To Causes and Conditions

山河大地,宇宙万有,它都是因缘和合而存在的。没有了因缘就没有了一切。缘起,是透
过表象来彰显规律;性空,是事物的本质。
Mountains and earth, everything in the universe all exist due to certain causes and conditions. Without causes and conditions, nothing can exist. Dependent origination shows its patterns through phenomena; empty nature is the intrinsic quality of matter.
有人说,缘起是事物的现象,这种说法是不对的,不究竟。缘起法本身就是事物的本质和规律,它是透过现象来彰显规律的。性空,是指事物没有自性,不是事物不存在,也不是什么都没有。事物的形象还有用途等等都是存在的,但是存在是暂时的,不是一成不变的,不是永远存在的。它遵循缘聚则生、缘散则灭这个规律。
Some people say that dependent origination is the phenomena of things, which is not correct or absolute.The law of dependent origination is the essence and rule of things; the phenomena can reveal the patterns of dependent origination. Empty nature refers to the fact that things do not have their own nature but they do exist rather than have no form. The appearance and function of things exist for real, but it is temporary rather than unchangeable or everlasting. It obeys the rule of coming into being and ceasing to exist according to conditions and causes.
刚才我们讲,这个桌子,叫它桌子,它是因缘和合而成的,但没有一个固定不变的本体。随着时间的推移,它终究会散灭,最后变成灰尘。虽然它没有自性,但是它这个相还宛然存在。桌子还放在这里,它不失其用,我们还在用它。世间的一切都是这个道理,遵循缘起性空这个规律,这也是事物的本质。
We have just said that the desk is named a desk which is a product of different conditions and causes. However, it does not have a constant entity, so it will end up as dust as it decomposes as time goes by. Although it has no personal nature, its form is still there.
缘起是相,性空就是体。从缘起的事相上,来显示性空的道理;在性空之理上,来显示缘起的事相。二者是不矛盾的,世界上没有单独存在的东西,一切假因缘而生。这个"有"是假有,而不是真有。佛教称为真空妙有,这就是自性本空的道理。
Dependent origination is the appearance, while empty nature the body. From the phenomena of dependent origination, the truth of empty nature can be revealed; all the manifestation of dependent origination is based on the principle of empty nature. Both ideas are not contradictory. There is nothing in the world that exists alone and everything has to be brought about through conditions and causes. However, this "existence" is a fake one, rather than real. It is called Genuine Emptiness and Wonderful Existence in Buddhism, which is the formula of empty nature.
缘起性空是宇宙人生的真理,最初是由释迦牟尼佛发现和指出的,为所有佛弟子所学习。但是缘起性空不是佛教所独有,而是万事万物存在的基础,是宇宙的真理和真相。
Dependent Origination and Empty Nature is the universal truth of human life, which is originally discovered and pointed out by Buddha Shakyamuni and studied by all the Buddhists. However, this truth is not exclusively owned by Buddhism but the foundation of the existence of everything, the truth and the real situation of the whole universe.
科学验证生灭变化的真相
The Truth Regarding Life Death And Changes Verified by Science

首先讲人体细胞的生灭无常。释迦牟尼佛证道以后,用禅定功夫,用佛眼和法眼观察自己的身体,发现自己身体的每一个细胞,每一个组成部分都是由亿万个小虫(过去叫小虫,没有微生物和细胞等概念)组成的,而且不停地生灭变化着,弹指间就变化了几百万兆次,太快太快了。在遥远的古代,没有显微镜,也没有分析仪器,对释迦牟尼佛所讲的,佛弟子对此是深信不疑,但是对于其他人就感到不可思议,半信半疑:说得太玄了,可能吗?
In the first place, the constant changes besides life and death of human cells have been discussed. After his enlightenment, Buddha Shakyamuni observed his own body using Buddha's eyes and Dharma 's eyes with his meditation technique; he discovered that each and every cell and components were composed of billions of little worms(in the past it was called little worms since the concepts like microorganism and cell did not exist yet), which were subject to constant change and death. With the snap of a finger, millions of changes had taken place, which is amazingly fast. In ancient times, there was neither microscope nor analysis meter; Buddhists believed what the Buddha had said very firmly, however, the nonbelievers felt the statement incredible and dubious about it: it is so esoteric to be true.
现代,美国的一位科学家研究细胞的生灭变化,他为了研究每秒钟的变化次数,发明了一个仪器,叫气泡室。他经过试验,证明了人体细胞每一秒种的变化次数是多少呢?是10的22次方,就是1后面加上22个零,这是多大的天文数字啊!因为有这个科研成果,揭示了人体细胞的变化规律,不停地生灭变化的真相,这位科学家得到了诺贝尔奖。
Nowadays, a scientist from the US studied the life and death as well as those changes involved in cells. In order to calculate the times of change within each second, he invented an instrument called Bubble Chamber. Through experiments, he had figured out the frequency of human cells within a second. What is it? It is 22nd power of 10, in other words, the figure is 1 plus 22 zeros. What an astronomical figure! Just with is scientific research result which reveals the patterns of human cells and the truth of constant changes between life and death, the scientist won a Nobel Prize.
这个事例证明,释迦牟尼佛在两三千年前证悟的,和现代科学技术发展证明的是一样的,释迦牟尼佛的论断得到了科学的证明。释迦牟尼佛是大彻大悟,明白了世间和出世间的一切真理真相,没有局限性,否则就不能称为佛了。当然,现代科学还在不断地进步,不断地探索,科学是由相对真理到绝对真理的渐进过程,释迦牟尼佛是一步到位,把世界的真理真相全部搞明白了,大彻大悟,这就是智慧。佛教是智慧的宗教,不是封建迷信,他讲的是真相真理。大家通过学佛都要开智慧祛烦恼,把烦恼去掉了,智慧就显露出来了。
This instance has proved that what the Buddha had realized more than two thousand years ago is identical with what has been proved by contemporary scientific and technological development. Therefore, the claims made by Buddha Shakyamuni had been vindicated by science. Since the Buddha is the completely enlightened one, knowing all the truths of this world and beyond, without any limit, it is wisdom. Buddhism is the religion of wisdom rather than superstitions because what is told by the Buddha is truth and actual facts. Through practicing Buddhism, we can become enlightened and remove worries, then the wisdom can be seen.
◎自性金刚不坏
The Indestructible Nature Like A Tough Diamond

在《楞严经》里面,佛陀与波斯匿王有一段精彩的对话。
In the Surangama Sutra, there is a wonderful dialogue between Buddha and King Pasenadi.
波斯匿王是很虔诚的佛门弟子。释迦牟尼佛对波斯匿王说:"你看这个肉质的身体是像金刚一样永远不坏的吗,还是会渐渐变坏啊?"
The king is a very pious Buddhist. Buddha Shakyamuni says to the king, "Your Majesty, how do you regard this body of flesh, is it going to be indestructible like a diamond or it will get gradually weak?"
波斯匿王对释迦牟尼佛说:"世尊,我现在的这个身体最终会变坏、灭掉的。"
The king responded to Buddha Shakyamuni, "Bhagawan, my present body will finally deteriorates and disappears."
释迦牟尼佛对波斯匿王说:"大王啊,你的身体现在并没有灭亡啊。你怎么知道你的身体将来会灭亡呢?"
Buddha Shakyamuni says to the king, "Your Majesty, your body does not go bad for now. How do you know it will be like that in the future?"
波斯匿王回答:"我这个不能常住世间的身体,虽然还没有完全灭亡,但是在我看来,现在的情形念念之间都在不停地变化着。"他自己讲,"我幼年的时候,精神饱满;再成长,到了中年,逐渐地开始衰老;现在我六十多岁了,已经是老眼昏花了,头发也白了,形容也枯槁了,皮肤也变皱了。这不是在逐渐地变坏吗?逐渐逐渐变得衰老了。肯定不会长久住世了。我会死掉,身体也会散灭,肉身终究会灭亡的。"
King Pasenadi offers his answer, " My body which can not last for ever in the world, has not totally become useless and invisible, but from my perspective, in middle age, it starts to age gradually; now I am well over sixty years old, my eyes becoming blurred, hair gray, my skin dry and wrinkled. Isn't it gradually going bad? I am aging slowly and destined to leave the world in a very short time. I will die: the body will become decomposed, and the flesh will finally disappears.
佛陀就对波斯匿王讲:"你这个年龄是已经在衰老,你的容貌跟孩子的时候不一样了,跟年轻的时候也不一样了。但是,你知不知道它是怎么变化的呢?"
Buddha says to the king, "At your age, Your Majesty has been aging; your appearance is quite different from how it was in childhood or adulthood. However, do you know how it undergoes the changes?"
波斯匿王讲:"我的变化是逐渐地变化的,不是一下子变的,不是一年一年变的,是每天都在变化,每时每刻都在变化的。"
The king answers, "The changes that occurred to me are gradual and steady rather than all very sudden and year by year, but daily, hourly and quarterly."
佛陀就对波斯匿王讲:"你的身体是在变化,但是还有不变的东西你知道吗?"
The Buddha says to the king, "Your body is changing, but there are unchangeable things. Are you aware of that?"
波斯匿王说:"什么不变呢?"
The king asks, "What remains the same?"
佛陀就问波斯匿王:"你见过恒河没有?"
The Buddha responds, "Have you ever seen the Ganges ?"
波斯匿王讲:"有啊,我三岁的时候,我母亲领着我去拜神,经过恒河,那时候见过恒河,以后十岁的时候也到过恒河,到现在恒河还在流淌着。"
The king offers his answer, "Yes, I have. When I was three years old, I was taken to worship a god by my mother. We bypassed the Ganges, so I saw it then and again when I was ten years old. Now it is still running."
佛陀就问波斯匿王:"那你三岁时候见到的恒河和你现在见到的恒河有什么两样吗?"
Buddha asks the king, "Is there any difference between the Ganges when you were three and when you see it now?"
波斯匿王说:"没有,恒河还是那个样子,还在那里不停地流淌。"
The king responds, "No, the Ganges is the same, incessantly flowing."
佛陀就问波斯匿王:"你所见的是恒河,那么你能见的这个'性'有没有改变呢?"
Then the Buddha asks the king, "What you have seen is the Ganges, how about the "attribute" that enables you to see it, has it changed?"
波斯匿王就说:"它没有改变。"
The king gives the Buddha his answer, "It has not changed."
虽然身体在变老,但是能见的"性"并没有变化。这个能见的是什么?这个"性"是不变的。
Although the body is getting old, but the "attribute" that can see remains the same. So what is the thing that can see? This "attribute" is constant and defies changes.
通过这段对话,佛陀告诉波斯匿王,自性是不会改变的。眼、耳、鼻、舌、身、意,这是六识。还有第七识末那识,第八识阿赖耶识,总共有八识。自性是在八识之中的。
Through this conversation, the Buddha tells the King Pasenadi that one's own nature will stay the same. The eyes, ears, nose, tongue, body and thinking are called the six senses. Besides, there is the seventh sense: Manas-vijnana and the eighth sense: alaya-vijbana; there are eight senses in total. One's own nature is within the eight senses.
第四章 众生平等
Chapter Four All sentient beings are equal
一切众生皆有佛性
All sentient beings have buddha-hood

基于缘起性空的道理,佛教的理念是众生平等,因缘果报,另外还有十法界等等。
Based on theory of dependent origination and the emptiness of nature, Buddhism advocates the ideas : all sentient beings are equal, the law of karma , and, ten dharma realms, etc.
刚才呢有几位学员都回答过了,释迦牟尼佛在菩提树下顿悟成佛的时候,说的第一句话就是:"奇哉奇哉,一切众生皆有如来智慧德相,只因妄想执着而不能证得。"德相就是佛性,这就是释迦牟尼佛成佛以后说的第一句话。
Minutes ago, it was answered by several students that the very first sentence Shakyamuni Buddha said right after he achieved Buddhahood is : Marvelous and extraordinary, all sentient beings have Buddha's faultless virtues, but could not attain full enlightenment due to idle thoughts and attachments. The faultless virtues is the Buddha-nature.
一切众生皆有如来智慧德相,都有佛性,将来都会成佛的。所以说众生平等,大家皆有如来德相。佛佛平等,佛与人之间也是平等,人与人之间也是平等的,人与一切生灵也是平等的。
Since all sentient beings have Buddha's faultless virtues ( Buddha-nature), all of them will eventually attain Buddhahood. Therefore all of them are equal. This equality exists not only within Buddhas or within humans, but also between Buddha and human, or between human and all other sentient beings.

大慈大悲 拔苦予乐
Great kindness and great compassion to bring happiness to all and save them from suffering

缘于众生平等的理念,佛教提倡慈悲为怀,大慈大悲。这个慈、悲,是两个概念。"慈"呢,是给予人家快乐;"悲"是拔苦,把一切有情、一切众生从苦难中救拔出来,这叫悲,也叫悲心。慈心是给人家快乐,拔苦予乐合在一起就叫慈悲。
Since all sentient beings are equal, Buddhism advocates the great kindness and great compassion. This phase include two different meanings. Kindness is to bring happiness to all sentient beings. Compassion is to save them from suffering.
另外佛教呢,看天下一切男人是我父,看天下一切女人是我母。这种大慈大悲啊,是最深最广的,至深至广,没有界限。而且《华严经》里面讲,对一切众生"如敬父母,如奉师长",像自己的父母一样看待,像自己的师长一样看待。而且是"若令众生生欢喜者。则令一切如来欢喜",就是我们的所言所行,所做的一切事情都是让众生欢喜,不能让人家不欢喜。让人家不欢喜,就不符合佛法了。
Besides, in Buddhism, we consider all males are our father and all females are our mother. This great kindness and great compassion is considered to be deepest, broadest, and unlimited. Just like mentioned in Avatamsaka Sutra, we need to show our respects to all sentient beings just like how we respect our parents and teachers. It also mentions if we make all sentient beings happy, we make all Buddhas happy. This means everything we do , every action we take should bring joy and happiness to all sentient beings. If we violatethis, we violate the principle of Buddhism.
大家想一想,世界上谁的恩情最大呀?父母的恩情最大,所以佛教讲孝道。8月8日至14日,山东省博山正觉寺举行"2012年阳光人生大学生禅修夏令营"活动。除了讲佛法之外还讲了《孝经》。许多孩子回去以后,家长反映说孩子变了。在正觉寺待了七天,回来变了一个人,变了一个样,彻底变了。原来不孝顺的,变得孝顺了;原来不听话的变得听话了,知道关心父母了,很多家长都这么反映。所以说佛教非常讲孝道。《地藏菩萨本愿经》里边就讲了,地藏菩萨无始劫以前当婆罗门女、当光目女,如何孝顺她的母亲,将她母亲从地狱里救拔出来得到解脱的故事。
In this world, to whom should we most grateful? Our parents. Therefore, filial pietyis emphasized in Buddhism. From Aug 8th to 14th, during the sunshine life college student Chan meditation summer camp in Boshan Zhengjue Monastery, the Classic of Filial Piety is also been studied along with Buddhism Dharma. Many students changed their way to treat their parents. A lot of positive feedbacks were given by parents stating and some of them mentioned that the children changed thoroughly to be another person after seven-days study in the monastery. They started to listen to them, care them, respect them. Filial piety is well valued in Buddhism. The K?itigarbha Bodhisattva Pūrvapra?idhāna Sūtra described how K?itigarbha Bodhisattva nicely treated her mom in her different lives as Brahman woman,Bright Eyes woman ever since before the beginning of eons and saved her mom from hell.
所以佛教讲,要把所有众生当作父母,所有的众生都要关心都要爱护,把一切男人看做自己的父亲一样,把一切女人看作自己的母亲一样。大家要这样看、这样想,世界上还有犯罪吗?没有了,世界自然就和谐了。所以说对别人都要如敬父母,如奉师长,这样来对待。所以佛教不主张杀戮,主张和平、讲求和谐,要求人与人之间、人与自然之间、国家与国家之间,都不要有争斗,不要有战争,都要和平相处,和谐相处。
Buddhism advocates to respect all sentient beings as our parents and care them, treat all male as our father, and all female as our mother. When all of us take this point of view, the world will have no crime and be harmony. Therefore, Buddhism promotes peace and harmony within humans, between human and nature, and between different nations. Buddhism encourages no violence or wars and keep our friendships alive and strong.
第五章 因缘果报
Chapter Five Conditions And Causes As Well As Karma
善有善报 恶有恶报
One Good Turn Deserves Another; Sow The Wind And Reap The Whirlwind
因缘果报,简单地讲,就是种什么因得什么果。中国人常讲,种瓜得瓜种豆得豆,种玉米肯定长出玉米,不可能长出高粱来。插秧栽水稻,肯定收获水稻,磨出大米来,不能长出小麦来,除非搞错了种。如果没搞错了种,那么种什么得什么,种什么长什么。这就是因缘果报。
Causes, conditions and karma,simply speaking, refer to the fact that one creates one's own life experience. Chinese people used to say that one gets melons because one has sown the seeds, while one gets beans in the same way. If one has sown the seeds of maize, one can hardly expect the harvest of sorghum. When one has planted rice seedlings, one will harvest rice and grind the rice from its husk. One can hardly get wheat from his or her action unless he or she mixed the seeds. Otherwise, one will get what he or she sow, and see what grows from his or her labor. This is the mechanism of cause, condition and karma.
佛教的因缘果报,来自于缘起性空这个道理。因缘果报的理念,在于阐明世间万事万物都是依仗因缘才有果的生起,此果又成为他果的因,又产生其它的果,这样辗转相续,乃成森罗万象。不停的因因果果,很复杂的关系,不是很简单的一个因就一个果,因因果果,很多很多。
The causality and karma in Buddhism stems from the principle of dependent origination and empty nature. The conception of causality and karma aims to illuminate the fact that everything in the world produce results due to causes and conditions, and such results will be the reasons for other outcomes, and so on and so forth, and finally there emerge majestic and myriad phenomena.
从宇宙到自然界到众生界,从天体到微尘,没有一个现象能够脱离因果。无论是达官贵人,还是贩夫走卒,没有一个人能在善有善报、恶有恶报这个因果律下得到例外。
From the universe to the nature and the realm of all living creatures, from celestial bodies to fine dust,there is no phenomenon that can not be subject to the law of causes and effects. No matter it is the high officials or noble lords, or peddlers or menial servants, there is no exception that everyone gets his or her justice according to the law of causality and karma.
有的人看见做恶的人还在享福,没有受恶报,很多善良的人,生活过得也不算好,而且有些善良的人还早夭了,年纪不大就死掉了,于是对"善有善报,恶有恶报"产生迷茫和疑惑。这种迷茫疑惑是不对的,是对因缘果报没有彻底地了解。
Some people feel confused and doubtful about the karma mechanism when they see that the evildoers are enjoying themselves without being brought to justice, while many kind people live a miserable life and even die young. Their confusion and suspicion is not correct due to a lack of thorough understanding of the mechanism.

三世因果 循环不失
The Effects of Causality Mechanism Can Last for Three Lifetimes And Everyone Will Get His Or Her Due
佛教讲的是三世因果。三世是过去世、现在世、未来世。"若知前世因。今生受者是。若知来世果。今生做者是。"有的人很善良,二十几岁年纪轻轻的就去世了。什么原因呢?按照佛经解释,很可能他的前生杀生太重了,这一世寿命就短。也可能有例外,那是另一回事,但一般规律是这样。为什么有的人这一世很富有啊?他前世修布施修了很多,按《地藏菩萨本愿经》讲,这叫"舍一得万报"。他布施得多,舍得舍得嘛,不舍不得,小舍小得,大舍大得。而且这个得,不是一生一世得的。尤其是种福田,建寺院、印经书、塑佛像,这既是财布施,又是法布施。种下善因,将来以后会得大果报。
What Buddhism emphasizes is three lifetimes, which refer to the former one, the present one and the next one. "If you wish to know the deeds of the former life, you can deduct it from what you have experienced from this life; as for the future life, what you have done in this life will determine the outcomes." Some people were very kindhearted but they died at twenty something. What are the reasons? According to the explanation of Buddhist scriptures, it is highly likely that he had killed too many lives in the former life so they could not enjoy a longer life. However, there are exceptions, which can be different stories, but here is the general rule. Why some people are very rich this life? It is because they have donated a lot of money and things in their former life. According to the Sutra of The Great Vows of Ksitigarbha Bodhisattva, this is called "donate one dollar and get rewarded with ten thousand dollars."They were great donors; when you donate money you will receive rewards, and if you give no donation, you will deserve none, and if you give large and small donations, you will get fitting rewards as well.
佛讲:"一切布施中,法布施为最。"大家拿出钱来盖寺院,建好以后会几百年上千年地存在下去。当然也有特殊情况,遇到地震或者战争毁掉了,毁掉了还会再建。洛阳的白马寺将近两千年了,中间也有毁的时候,毁了又再建。博山正觉寺,东晋时始建,有一千六百多年的历史了。在历史上有战争毁了,或者年久失修毁了,现在又再建,还是正觉寺。当然也有改名的时候,不管怎么改,在这个地方还是这个寺院。
The Buddha used to say, "Among all the donations, Dharma is the best." When you donate money to build monasteries and temples, they will last hundreds and thousands of years. And doubtlessly there are exceptions, they can be ruined in earthquakes or wars and get rebuilt. The White Horse Temple of Luoyang boasts a history of two thousand years and it was destroyed and rebuilt during those years. As for Boshan Zhengjue Monastery, it was originally built in the Eastern Jin Dynasty ( 317-420 ), with a history of almost two thousand years. In history, it sometimes was demolished in wars or reduced to rubble due to a lack of repair. Now it is rebuilt and it is still called Zhengjue Monastery. Of course, it was named something sometime, however, it is still this temple in the same place.
一个寺院建好以后,会度化许许多多的人,每个人到了寺院,对佛菩萨一瞻一礼,就能种下成佛的因,种下成佛的金刚种子,心灵会得到净化。有的人一到寺院,就泪流不止。什么原因呢?这是心灵得到了洗涤和净化,当然还有的是感应,可能过去世就是在正觉寺修行的,现在回家了,等于是故地重游了,心灵有所感应。所以大家要珍惜这个缘分。
When a monastery is erected, a great many of people will be led to enlightenment. Every visitor to the temple will take a look at the Buddha and those Bodhisattva, therefore they will pave the way for becoming a Buddha, sow the diamond seed of enlightenment, and their minds will be purified. Some people can not help shedding tears once they set foot on monasteries. What are the reasons? It is because they have become spiritually clean and pure, and of course, there are interactions. It is probably they used to practice Buddhism in Zhengjue Monastery and they have come home, which is like revisiting old haunts, and they get spiritual responses. Thus, all of you should cherish the lot and take advantage of this opportunity
布施得多,将来会舍一得万报,这一世,或来世,乃至子孙后代都会受益,这就是因果报应的道理。《涅槃经》讲:"善恶之报。如影随形。三世因果。循环不失。此生空过。后悔无追。"
When you make generous donations, you will reap more rewards in the future as mentioned before, in this life or the future life, and all your offspring will benefit from your good deeds because this is the principle of causality and karma. In the Nirvana Sutra, one can read the following lines, "The karma of one's good and bad deeds are like the shadows which follow one's body. The effects of causality can last for three lifetimes without being canceled out.If one squanders the opportunities of this lifetime without making a difference, one can feel bitter regrets without any means to change the situation. "
第六章 十法界
Chapter Six Ten Dharmadhatu
四圣六凡 各有因缘
Four holy realms and six paths causes and conditions
因为缘起不同,人的心也不一样,就形成了十法界,包括四圣六凡。佛经讲:"若人欲了知。三世一切佛。应观法界性。一切唯心造。"心如果修行佛法,将来就会成佛;如果一心向善,将来就会得人天福报;如果心做恶,光想坑人害人,那就堕落,堕到三恶道。
Owing to different causes and conditions, people hearts are diverse, thus becoming ten dharmadhatu consisting of Four holy realms and Six paths as written in the Sutra: " If people want to really know all buddhas of all time; They should contemplate the nature of the cosmos: All is but mental construction". If Dharma is practiced in the heart, a buddha he will become; if natural benevolence lives in the heart, good karmic conditions he will receive; if evil propensity lingers in the heart with inclination of entrapping and harming, then he will go to depravity till Three evil paths
像欠钱不还的,将来堕畜生道,变猪变羊、做驴做马来还债;坑人害人的,下地狱。《地藏菩萨本愿经》讲,有各种各样的地狱,有刀山地狱、火海地狱、粪尿地狱、铁马地狱、火舌地狱等等,太多太多了。三恶道呢,是畜生、恶鬼、地狱;三善道,包括人道,天道,还有阿修罗道。今天我们在座的,大家都是人道。人身是很难得的,是人天福报。另外还有天道,天人,简称为天,就是我们平常所说的神仙。阿修罗道,在天道,人道里面都有,就是好勇斗狠的那一部分,这称之为六凡道。声闻也叫罗汉,缘觉也叫独觉,还有菩萨,佛,这叫四圣道。六凡道四圣道合起来,称为十法界。
He who is in debt and refuses to return the money will fall into the animal path to pay back money by turning into swine, goat, donkey and horse; he who is inclined to cheat and harm people will fall into the hell. All sorts of hells are recorded in Sutra of the Past Vows of Earth Store Bodhisattva, containing hells with Hills of knives, lakes of fire, night soil, iron horses and tongues of flames. Three evil paths are paths of animals, evil spirits and hell; three good paths are paths of people, heaven and Asura. All of us present belong to the path of people. Human body is a rare fortune from heaven. Besides, the path of heaven, briefly named as heaven, is the so called immortals. Asura, fond of bravery and fighting, exist in both paths of heaven and people. All together these are the six paths. Sound-Hearer(Arhan), Pratyeka Buddha(Solitary Enlightened One), Buddhisattva, and Buddha, the above are Four holy realms. Six paths and Four holy realms are ten dharmadhatu.
十法界的区别在哪里呢?心有善有恶,修行不同,才分出十法界来。
What are the differences among these dharmadhatu? Dharmadhatu are classified in line with the vice, virtue, and the practice.
修行得"力" 提升能级
Practice will give strength to the practitioners, upgrading their levels in energy.
另外,十法界的区别还在于能量不同。仁炟认为,佛经没有能量这个词,但是有"力"的概念,五根五力,还有七菩提分,八圣道分。
In addition, one difference of the dharmadhatu lies in the different energy. Renda holds that there is no such word as energy, but the concept of power, for instance, the five faculties and five powers, the seven branches of enlightenment, and the eightfold path of sages.
《华严经》《楞严经》里面都提到佛的"十力",力就是能量,不过是名词不同而已。现在的物理学也有作用力、反作用力、吸引力,这都是力。力和能量是互相转化的,包括热能、电能、场能、磁场、引力场,都是能量。
Ten powers are mentioned in both Bhaisajyaguru and Shurangama Sutra, in which power is energy in another term. Action, reaction and attraction in current physics all pertain to power. Power and energy can transform into each other, including energy forms as heat, electricity, field energy, magnetic field, gravitation field.
仁炟理解,人们修行就是修这种能量的。佛陀的能量是最高的,次之是菩萨,再次之是声闻、缘觉。人的能量是多少?如果把能量分为十二个等级的话,人的能量在"一"以上;菩萨的能量是"七"以上;佛的能量是在"九"以上。当然有许多大菩萨,像等觉、妙觉,他们的能量有的也是十二级的。释迦牟尼佛、文殊师利菩萨、普贤王菩萨、观世音菩萨,他们的能量都在"十二"级。等觉、妙觉菩萨本身就是佛,他们发心为了帮助释迦牟尼佛度化众生,倒驾慈航,现菩萨身,做佛的弟子,能量本身就很高。三恶道的众生,能量就很低了,不到"一",一般的幽冥界众生,可能不到"0.5"。地狱鬼那就更低更低了,更惨了。
I apprehend practice as practicing such energy. Buddha's energy is at the top, Bodhisattva the second, Arhan and Pratyeka Buddha the third. How much is humankind's energy? If energy can be divided into twelve classes, then human being's is above one level, Bodhisattva's is above seven; Buddha's is above nine. some of the great Bodhisattvas as perfectly enlightened one and universal illuminator possess the twelve-level energy. Sakyamuni Manjusri Samantabhadra Avalokitesvara also have the twelve-level energy. Perfectly enlightened one and universal illuminator Bodhisattva are Buddha themselves, who resolved to assist Sakyamuni to save and relieve all people from distress. In the body of Bodhisattva, being disciples of Buddha, they possess a high level of energy. Beings in the Evil Paths have low level of energy, less than one, and the average beings in ghostdom may less than 0.5. Ghosts in hells are further less, which is miserable.
修行的过程,就是提高能量的过程。用这个概念来解释,就跟现在的科学技术挂起钩来了,也便于理解佛教、理解佛经。卫星发射到天上去,要有第一宇宙速度,还有第二宇宙速度、第三宇宙速度。宇宙速度是怎么来的呢?有能量才行。没有能量怎么能有宇宙速度啊?要有克服地球引力的能量,速度才能高。我们修行,要往生西方极乐世界也好,往生兜率陀天内院也好,往生东方净琉璃世界也好,你得具备很大的能量,能量小了走不掉的。地球引力就把你拽住了,还有很多幽冥界众生,冤亲债主,他们会拉你后腿。所以大家要修行要提高能量,同时还要忏悔业障,把这些冤亲债主们给超度了,化敌为友,不让他们再拽自己的后腿,这时我们修行就得"力"了。
The course of practise is to practise such energy. Explained by such concept, Ten powers can be linked together with current technology, making it easy to understand Buddhism and sutra. first,second and third cosmic velocity is essential to send satellite into space. How does the cosmic velocity come into being? By energy. How could cosmic velocity exist without energy? Speed could become high only with the energy which overcomes the earth gravity. Wherever we want to reappear, Western Paradise, Tushita pure land or eastern bright world, we must possess prodigious energy, otherwise we cannot move forward. Earth gravity will take hold of you; in addition, ghost beings and karmic creditors will hold you down. Therefore we should improve our energy by practicing and penance, releasing souls of karmic creditors from purgatory and converting enemy into friend which will not hold us back, then we can obtain the power.
人,有好人有坏人。但好人不一定是绝对的好,坏人也不一定是绝对的坏。哪怕是杀人犯,有时候也会有慈悲心,可能一念之差,做了坏事,堕落走上了犯罪的道路。修行,就是改变我们的心灵,使之弃恶扬善,改恶从善。人的好坏不是本性,而是习气,不是与生俱来的,而是后天养成的。当然,这里面还有无始劫以来的毛病习气,积累下来的,但是多数是后天养成的。人之初,性本善。也有性恶论,也有性善论,很多是哲学问题,我们在这里不予讨论。
Good people and bad are mixed together. However, good people are not always absolutely good, while bad people are not always absolutely bad. Even murderers have mercies, who commit something bad by one slight error, falling into the path of crime. To practice is to transform our minds, forsaking evil and promoting virtue. Vice and virtue are not in people's nature, but habits, not inherent but cultivated. Surely there are defects and bad habits from Man's nature at birth is good. Doctrines of good human nature and evil nature are philosophical issues, which we bypass here.
大家发现了自己的毛病习气要生惭愧心,至心忏悔,用心改过。这样,我们就会圆满自己的人格,提高自己的能量。
If we detect our defects and bad habits, we'd better be shameful, repenting and correcting them with heart. In this way, we will consummate our personality, improving the energy.
第七章 六道轮回
爱取造作 随业流转
为什么会有六道轮回?是因为每个人都有无明烦恼。释迦牟尼佛在菩提树下,打坐七七四十九天,观四圣谛,观十二因缘。十二因缘是十二相,所谓无明缘行,行缘识,识缘名色,名色缘六入,六入缘触,触缘受,受缘爱,爱缘取,取缘有,有缘生,生缘老死忧悲苦恼。人为什么会有轮回,原因在哪里?最根本的原因是无明烦恼,因为无明,人才有六道轮回。十二因缘里,爱和取,是六道轮回的根本。因为有无明邪见,才会有爱和取。有了爱和取,他才有造作。当然有了造作,就会有善业、恶业,然后才有随业流转。业力也有叫业风,力量是很大的,这种风不是随着个人的意愿转移的,也是不可躲避的。
◎两个因果故事
Two stories about cause and effect

有一个故事,是解放以后的事。四川有一个十几岁的少先队员,男孩,左手长了个猪爪。平常他总藏在袖子里,不露出来,怕被人看见。为什么会长了一个猪爪呢?他自己讲,他前世是人,死了以后就觉得风特别大,非常非常的寒冷,彻骨的严寒。在这个风道里头走,随着风飘。看见墙壁上挂着个毛大衣,他伸手就想把这个毛大衣摘下来披在身上。这一披不要紧,一个小猪娃出世了。他一看自己变成猪了,哎呀,不得了。这个猪一下生就会跑的,他一看自己成猪了,就猛跑几步,头就撞石头垒的墙上,死了。然后再随着这个业风飘,还是非常的寒冷,刺骨的严寒,又看见墙上挂着一个毛衣,还想伸手去摘,刚一伸手,又想起来,啊,不能摘了,摘了又变成猪了。刚一伸手,又把手缩回来了。结果出世了,是一个小男孩,左手是一个猪爪。在四川,这是真人真事。
The first story is after Liberation. There was a teenage Young Pioneer, his left hand was as same as a pig's foot. He always hid it in the sleeve because he was afraid of the sight of people. Why did he have a foot of pig? He said that he had been a person in the past life, after he died, he felt terribly cold and the wind was particularly strong, he walked on the wind path in the direction of the wind, he saw a fur coat hung on the wall, then he reached out his hand to take the fur coat off to cover his body, but because of that movement, he was born as a pig baby, and it could run as soon as it was born. He was shocked when he found himself that he turned out a pig, so he dashed a few steps, his head hit against the wall built by stones, died. Again, he went with the wind of Karma, it was also bitterly cold, then he saw a fur coat hung on the wall once again and wanted to reach out hand to take it. At that moment, he remembered that he could not do that, otherwise, he would turn to pig again. Because as soon as he reached out hands, he retracted. Finally, he was born as a little boy, but his left hand is a pig's foot. This is a true story happened in Sichuan province.
所以业力是很强的,人们都是随业流转。你做好事多善业多,就往上走,受人天福报。你做恶业多,就往下走。
So, the power of Karma is very strong, people are always moved by Karma. If you did many kind and virtuous things, so you accumulated a lot of good karma, you can go upwards to get the blessings of human beings and gods. However, if your bad karma is more than your good karma, you will go downwards.
还有一个猪长人手的真事。长江北岸一带,一个人转世成猪了,被拍下照片,做了文字说明。1923年,民国十二年,有一个人叫施庆钟,性格非常的凶狠,三十多岁得了一场大病,很快就要死了,正好来了一个云水僧。云水僧就是行脚僧,到处走,修苦行的。过去寺院多,早晨吃完饭,就从一个寺院走到另一个寺院,中午就有饭,也叫行脚僧。这个云水僧应该也是开悟的,也有神通,他看到这个病人病得很重,就跟他说:"你性格太凶狠了,恐怕不久于人世。因为你作恶太多了,你死后要变成猪。"
There is another true story about a pig with a man's hand. In the area of the north bank of the Yangtze River, a man reincarnated to a pig, he was taken photos and introduced by words. In 1923, the twelfth year of the Republic of China, a fierce and cruel man named Shi Qingzhong, he had a serious illness in his 30s and would die soon. At that time, a cloud water monk came. Cloud water monks mean traveling monks, they walk around and practice Buddhism in ascetic way. Formerly, there were many Buddhist temples, a monk ate breakfast in one temple, could get to another temple in the noon and eat lunch. This cloud water monk should achieve the Enlightenment and have Abhijna. When he saw this patient was very ill, he said: " Your character is too cruel, I'm afraid that you will be dead soon, and because you have done a lot of evil things, after you die, you will become a pig."
这个病人一听,内心悚然,非常害怕,因为他病入膏肓,没力量双手合十,就把左手举起来,半合掌状。这个云水僧讲:"哎呀,你临终还有一善念,虽然变成猪,也可免一刀之苦。"
说完以后,这个云水僧就走了,这个人很快就死了。死了以后,他们邻居家就生了一窝小猪,其中有一只小猪,左手就是人手,而且这只手不着地,用另外三条腿走路。死了这个人的家人听说以后,就把这个猪买来,放到上海双林宝华寺放生了,在宝华寺里喂养着。一九三几年,这头猪十几岁了。有位作者听到这个事后,找到寺里面,果然看到这头猪,就请上海镜华照相馆给它照了相,做了个题记,说明这个人死了以后变成猪。这是实际的例子,有照片传下来。
This patient was very scared when he heard these words, because he was very weak at that time, he didn't have strength to put his hands together, so he lifted the left hand to make the half gesture of Namaste. So, this monk said: "Alas, you have a good thought before you die, although you are going to become a pig, you will be safe from being slaughtered."
After saying that, that cloud water monk went away and this man died quickly. After he died, a sow of his neighbor gave birth to a litter of piglets, and one of them with a man's hand as it's left foreleg, and this hand can't reach the floor, it used other three foot to walk. The families of that dead man heard the news and bought this piglet from their neighbor, then they liberated it in Double Woods Baohua Temple of Shanghai, it was feed in that temple after that. In the 1930s, this pig was teen-age old, one writer heard about this story and found that temple, then saw this pig really. He let Jinghua Photo Studio take photos of it and wrote an inscription to explain that a man turned to a pig after died. This is a true example with photos passed down,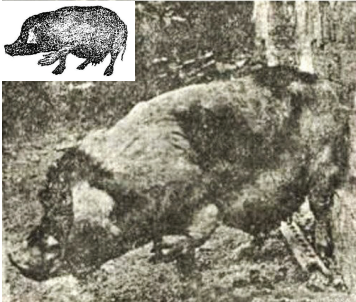 流传千古的宋词《望江南》
A Lyric of Song Dynasty spreading through the ages: Lookout River south
王安石是宋朝的一位宰相,信佛。我们知道有几位宰相都是佛门弟子,比如与王安石同时代的司马光,《资治通鉴》的总编,也是佛门弟子。还有北宋末年有名的宰相张商英,是开悟的。宋徽宗非常怕他,建大楼如果是游乐的,让张商英知道了,就让停工,不许再建,但是北宋的气数已尽,他也没能挽救北宋灭亡的命运。
Wang Anshi, a prime minister of the Song Dynasty, believe in Buddhism. We know that there are several prime ministers are also Buddhist, such as Ssu-ma kuang, the author of 'History as a Mirror', living in the same period with Wang Anshi. What's more, Zhang Shangying, a famous prime minister at the end of the Northern Song Dynasty, is enlightened. Emperor Huizong of Song is very afraid of him. For example, when the emperor builds an architecture for pleasure, if known by Zhang Shangying, the project must be shut down. Despite this, the days of Northern Song Dynasty are numbered and this prime minister fails to prevent it perish.
王安石学佛学得很好,佛学造诣很深。他填的词《望江南》,其中有一首"皈依三宝赞"里写道:
三界里,有取总灾危。普愿众生同我愿,能于空有善思惟。三宝共住持。
Wang Anshi can understand the Buddhism deeply. One of Lyrics, "Dependent's Paean", written by him, expresses that "In three realms, you get, then you get samsara. Let's hope everyone has the same wish, and you will obtain emptiness by pious idea. Buddha, Dharma and Sangha are always on my mind."
这首词很有名,流传千古。什么叫三界呢?就是欲界、色界、无色界。六层天以下,地狱鬼、饿鬼还有畜生,人世间,从一层天到六层天,这叫欲界,都有欲望,饮食男女嘛。从第七层天到二十四层天,叫色界天。这个色界就是没有欲望了。从二十四层天到二十八层天,称为无色界,就是变成光了。到了那个位置没有形体,没有形象,就是一层光而已。这为三界。
This Lyric is famous and spreads through the ages. What's the three realms? They are desire realm, form realm and formless realm. There are hell ghosts, hungry ghosts and livestock below the sixth floors of the space. The world we live in, from the first floor to the sixth floor of the space, is the desire realm. In this realm, everyone has his own desire because of the natural instincts of man. The form realm is from the seventh floor to the twenty-fourth floor in the space, and there is not any desire. While the formless realm is from the twenty-fourth floor to twenty-eighth floor of the space. There are not tangible objects and all is just the light. All in all, they are three realms.
但是无色界仍在三界里边,还没有跳出轮回。做天人,我们平常说神仙,当天福用尽的时候还会下生人间,随业流转。所以王安石讲:"三界里,有取总灾危。"取,就是十二因缘里的爱和取,因为有无明烦恼,才有了爱欲,才有了取。
However, even the formless realm belongs to in the three realms, and it also has samsara. The celestial being, we call immortal, will be born in the human world and suffer the samsara according the karma when his happiness is exhausted in the formless realm. Thus the Wang Anshi writes "In three realms, you get, then you get samsara". The "get" means that "love" and "acquirement" in the twelve links. It is because of ignorance that there are "love" and "acquirement".
年轻的女孩子看到哪个男孩子长得漂亮:"啊,这是我的白马王子。"男孩子看到哪个女孩子长得漂亮:"哇,我得追她。"把她追到手,变成我的,变成自己的私有财产,这就是取。有爱、欲,就有取,有了取就有造作。当然有的是善业,有的是恶业。善业,是积人天福报了。恶业呢,那很危险了,闹不好就变成那头猪,还人家债,要不就下地狱,受罪。所以,有取总灾危。
When a young girl sees a handsome boy, she will have a thought that he is just my Mr Right. Besides, when a boy sees a beautiful girl, he will say "WA, I want to chase the girl". The thought that "I want her to be my girlfriend. Then she belongs to me and is my own private property" is just the meaning of "acquirement". Where there are love and desire, there is acquirement, then there is karma. Of Couse, some is good karma, but some is bad karma. The good karma can increase the happiness. But if it is the bad karma, you may be reincarnated as a pig to pay the debt, or you may go to hell to suffer. Therefore, Wang Anshi write "you get, then you get samsara".
普愿众生同我愿。什么愿呢?能于空有善思惟,三宝共住持。空不是顽空,而是真空。有,是妙有,不是实有,都是因缘假合而成,随因缘而生,缘聚则生,缘散则灭,没有自性。所以叫真空妙有。三宝共住持。三宝住持世间,弘扬佛法,让人们做善事不做恶事,则社会和谐。
"Let's hope everyone has the same wish". What's the "wish"? It is that "you will obtain emptiness by pious idea. Buddha, Dharma and Sangha are always on my mind". The emptiness means there is nothing naturally but not nothing coercively. The "obtain" means getting marvelous existence but not getting actual existence. Everything is conditioned existence. When the karma appears, the things also appear, and when the karma is gone, the things are died away, too. Thence the emptiness is marvelous existence. "Buddha, Dharma and Sangha are always on my mind". Buddha, Dharma and Sangha become the abbot of the world and carry forward Buddhism, teach people to do good only not evil. Then the society will be harmonious.
◎《十二因缘》组诗
Group Poems "Twelve Causal Links"

(一)无明
Ⅰ. Ignorance
无始劫来患无穷
Limitless the adversities since the kalpas without beginning
烦恼无尽六道中
Immeasurable the afflictions within six paths
荆棘丛里寻欢乐
Pleasure are seek in brambles
六贼门头紧缚绳
Ropes closely tied to the six thieves'doors

(二)行
II. Formation
懵懵懂懂东西闯
Travel muddleheaded to make a living from west to east
徒徒碌碌南北忙
Hustle and bustle in south and north
未知造作多不善
Have not realized that most of the conducts are unwholesome
恰似篱下栽祸殃
Like planting calamities under the fence

(三)识
III.Consciousness
巫山顶上雨携雷
Thunders and rain above the peak of the Mount Wu
神女飘然牧笛吹
The deity girl plays the flute with calm serenity
愚公未识真人面
The old fool does not recognize the appearance of immortal
始作仙童去弗归
Become the deity youth and leave immediately without coming back

(四)名色
IV. Name and Form
一元复始歌罗逻
The new beginning of kalala
混沌无疆蒙太窝
Chaotic has no boundaries
漫天晨雾无寒暑
The morning mist permeate the sky without coldness and warmness
春风杨柳好城廓
A palatable scene of city with spring breeze swaying poplar and willow

(五)六入
V. Six Sense Gates
一城山水景色奇
Amazing the scenery of a city mountains and rivers
白衣仙子正堂颐
In the main hall rest the fairy in white dress
仕农工贾各有序
Government officials, farmers, workers and merchants are all in their order
舞榭歌台望晨曦
View the dawn in the place of amusement

(六)触
VI. Contact
赤子参学四处游
The kind youth travel around to learn the truth
金沙踏暖五岳遒
Step across the warm golden sands and five great mountains
寻春未遇芒鞋破
Straw sandals are worn out in seeking the spring yet not found
醉卧秦川忘却秋
Lie drunk in Qinchuan and leave time behind

(七)受
VII. Sensation
火宅焰焰弃家乡
Leave the hometown where the house is on raging fire
寒来暑往忍饥肠
Endure the empty stomach through altering of autumns and summers
商女不知亡国恨
The singing girl does not care about country's calamity
直把杭州作汴梁
Still treat Hangzhou as Bianliang

(八)爱
Ⅷ.Craving
欲火焦焰五内烧
The fire of desire flame in heart
十缠十使祸根苗
Ten entanglements and ten forces are the root and sprout of misfortune
梁祝化蝶何其苦
What a pity that Liang Shanbo and Zhu Yingtai turned into butterflies
沧海桑田恨未消
Their hatred cannot be pacified through great time changes

(九)取
Ⅸ. Clinging
东讨西杀分外忙
Send army to suppress from west to east, busy without rest
南征北战为扩疆
Broaden the boundary in the battles from the south to the north
功名利禄雀台宴
Copper bird pavilion feast and high official position, wealth and fame
一梦南柯话黄粱
The fool's paradise in Nanke dream

(十)有
X.Becoming
浩荡春风百花开
The mighty spring wind bring all the flowers blossom
滂沱秋雨送雪来
Torrential autumn rain send the snow here
如是因招如是果
The causes will canvass the corresponding effects
三有酬偿不须猜
The retributions of the three realms do not need to guess

(十一)生
Ⅺ. Birth
春满枝头蓓含苞
Spring has manifested on the branches and buds
江风拂揽过湘潇
The wind flow over the river and across the Xiangxiao
斑竹脚下千滴泪
Thousands of tear drops at the foot of the mottled bamboo
滋育灵芽启妖娆
Nurture the sagacious bud and activate the enchanting beauty

(十二)老死
Ⅻ. Aging and Death
秋风萧瑟万物催
The autumn wind is soughing and everything has been speeded the awakening
树老株雕甚可悲
The tree gets old and instictus worth a great pity
黄沙岭前寻枯草
Seek the withered grass before the yellow sand hill
白骨知否汝是谁
Do the bones of the dead know who were they
释仁炟 佛历二五五七年岁次癸巳五月(公元2013年6月)作于深圳
Written by Ven. Shi Renda in May, Year of Guisi, 2557 in Buddhist calendar (June 2013 A.D.) in Shenzhen


本书免费结缘,可在"正觉法宝流通"淘宝店恭请:
https://shop115409732.taobao.com/
分享按钮